Membership
---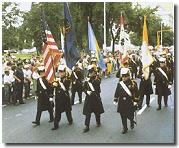 The Knights of Columbus is the world's largest Catholic family fraternal service organization with 1.6 million members. It provides members and their families with volunteer opportunities in service to the Catholic Church, their communities, families and young people. More information
about
the Knights of Columbus
can be read on the Web by visiting New Advent Catholic Encyclopedia at http://www.newadvent.org/cathen/08670c.htm.

As a member of the Knights of Columbus you and your family enjoy many benefits, including 12 free issues annually of the Columbia magazine, the world's largest Catholic family magazine, eligibility to join the Knights of Columbus top-ranked life insurance program, and many more family and personal benefits.

One of the greatest opportunities available to all Brother Knights is our excellent insurance program. You can contact Bob Abbate, our local Field Agent, by phone at (757) 495-1492, or visit The Abbate Practice website for information or assistance. Our parent organization, the Supreme Council has information posted on the Supreme Council website as well.
Membership in the Knights of Columbus is open to practicing Catholic men in union with the
Holy See
, who are at least 18 years old. A practicing Catholic is one who lives up to the Commandments of God and the precepts of the Church. Application blanks are available from any member of the Knights of Columbus. Contact our Kempsville Council at the phone number above or
send an

email to

RedShirts

@kempsvillekofc.20m.com
with your questions concerning joining our council.


Any Third Degree member in good standing, one year after the anniversary of his First Degree, is eligible for membership in the Fourth Degree. The primary purpose of the Fourth Degree is to foster the spirit of patriotism by promoting responsible citizenship and a love of and loyalty to the Knights' respective countries through active membership in local Fourth Degree groups (called "assemblies"). Certain members of the Fourth Degree serve as honor guards at civic and religious functions, an activity that has brought worldwide recognition to the Knights of Columbus.




The Ladies Auxiliary's main function is to support the men and the council. They do this primarily by providing help at events, cooking for events and providing monetary help. They also help with setting up and beautifying the hall for events. Although our Council does not have a Ladies Auxiliary in name, we do have an extremely dedicated corps of ladies of Brother Knights who lend assistance throughout the year for all sorts of events. They provide significant contributions to the Council's success!






Squires Circle 5188 – Pope John Paul II
is the local council in Southside Hampton Roads. They meet at the Council Hall, behind St. Gregory the Great Parish at 5343 Virginia Beach Blvd, Virginia Beach, VA, 23462; and are sponsored by
St. Benedict Council #9056
.
Under the guidance of Christian Brother Barnabas McDonald (1865-1929), the first Columbian Squires circle was instituted in 1925. Columbian Squires and Squire Roses are sponsored by the Knights of Columbus and are organizations of young men and women who have fun and share their Catholic faith, help people in need, and enjoy the company of friends in social, family, athletic, cultural, civic and spiritual activities. As a Squire or Squire Rose, you'll be a member of one of more than 1,300 "circles" located throughout the United States, Canada, Mexico, the Philippines, the Caribbean, and other places where Knights of Columbus councils are located.
Squires and Squire Rose circles are designed to be run both by and for young men and women. Through their local circle, Squires work and socialize as a group of friends, gradually developing into Catholic leaders. Squires and Squire Roses graduating from the program at age 18 are eligible for college and vocations scholarships offered by the Knights of Columbus Supreme Council office. They are urged to join the Knights to continue their commitment to Columbianism. Every circle is sponsored by a Knights of Columbus council, and Knights serve as adult counselors to the group.